Health and Nutrition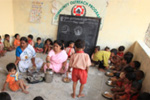 Health problems are a major concern for children in the communities we serve. These children often do not receive nutritious meals or have access to clean water or proper sanitation, resulting in many cases of anemia, malaria, tuberculosis and other life-threatening diseases.
To help tackle this problem, CORP provides a nutritious meal or snack for each child participating in our programmes. In fact, we feed more than 1,500 children every day through our crèche, daycare and shelter services.

Children also receive regular health checkups, attend monthly medical camps and have access to doctors when needed.